Let me show you how easy it is to make a 3D Hologram projector for your smartphone, iPad/tablet or laptop PC. The only materials you will need are some clear thin plastic such as an old CD case and sticky tape.
Difficulty: Medium / Easy
This method will show you how to make a 4 sided hologram projector which will allow you to view the hologram a full 360 degrees. If you're making this from a CD case it can be a bit tricky cutting it out but I will show you a good method on how to do this in my video.
I have produced 2 templates to help you make it. There is a small template to make the smartphone projector or a larger template to help you make one for larger screen devices such as an iPad or laptop.
Watch my video guide on Youtube (link below). Soon you will be impressing your friends with stunning 4K holograms from your smart devices!
How to Make a 3D Hologram for Smartphone, iPad, Laptop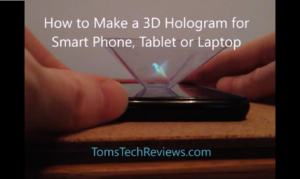 Download the Hologram Templates below:
Hologram projector large & small templates
Please note these templates are for personal use only. You are not allowed to upload them to any website or server  to share with others.
copyright ©  www.tomstechreviews.com
Thank You