Let me show you how to play your iTunes music library as single tracks or playlists on your Google Home Mini using simple voice commands for free!
Click on the link below to watch my YouTube video.
How to Play Music on Google Home Mini for Free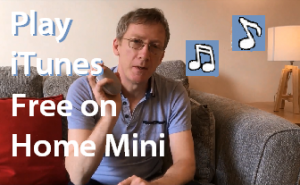 Chromecast
In this video I will also show you how to cast your iTunes music to your TV without any paid subscription required. This will require a Chromecast enabled TV or a Chromecast device connected to the HDMI socket at the back of your TV which is cheap to buy from about £20 in the UK or $20 in the US.
Chromecast is a great little device which will allow you to stream your media content from your smart phone,  laptop, PC and tablet to your TV.  It will allow you to stream video and audio content from a wide range of apps and also all of your online content that you are browsing from within the Google Chrome browser.
Chromecast £25 (save £5) from Argos