JBL headphones are known for their pure bass sound and in this review I  find out how good the bass and sound quality is for two of their most popular budget in-ear headphones, the JBL T110BT and JBL TUNE 205BT. These two headphones are similar in price and at the time of this review were as follows;
JBL T110BT –  £29.99 from Amazon UK
JBL TUNE 205BT –  £34.99 from Amazon UK
The ear buds for each set of headphones are significantly different in design from each other. The TUNE 205BT ear buds which are a similar design to Apple's ear buds don't sit fully in the ear and so are more comfortable to wear for longer periods and in my experience provide a higher quality of bass sound too.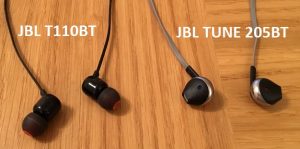 The only downside to these ear buds is that they don't offer much noise cancelling where as the T110BT which use the standard in-ear design sit deeper in your ear canal and hence provide a reasonably good level of passive background noise cancelling.
The downside to the T110BT ear buds is that they are less comfortable to wear for long periods and in my experience I prefer not to wear them for more than 20 mins where in contrast I can wear the TUNE 205BT earphones all evening without any comfort issues.
Watch my detailed YouTube comparison review on both sets of these headphones where I compare their sound quality, comfort, usability and value for money and give a final verdict and score out of 5 for both.